回顾 | 设计沙龙Ep.3:产品设计,何为新?
设计师总是面临着各种挑战,随着前沿科技的发展、工作方式的变迁以及价值观的多元化,这些挑战变得更复杂、更混沌。对披荆斩棘的设计师而言,挑战也意味着机会。在新一期的设计沙龙中,让我们来看看设计大咖们如何迎难而上。
5月19日,"设计沙龙"如期上新Ep.3,来自国内外的设计大咖们集聚一堂,共同探讨产品设计的前沿趋势和创新实践。在充满创意与灵感的氛围下,大家畅所欲言,分享各自在产品开发中遇到的挑战、以及如何在决策中平衡感性和理性因素等诸多有趣话题。
At the Product Design Salon on May 19th, industry experts from both domestic and international sectors gathered together to explore the latest trends and innovative practices in product design. The spacious and bright venue created a creative and inspiring atmosphere. The event focused on discussing how to address challenges encountered in product development and how to balance emotional and rational factors in the decision-making process.
/Srini Srinivasan/
上海创新创意设计研究院首席运营官、工业设计教授
COO & Prof. of Industrial Design, DIIS
As designers, how did you manage customer expectations with the company requirements?
/李宁宁 Ning Li/
上海形略设计咨询有限公司创始人、执行设计总监
前小米生态链工业设计总监
Founder & ED, Vistrat Design Consulting
Former Sr Dir of Industrial Design, Xiaomi Ecosystem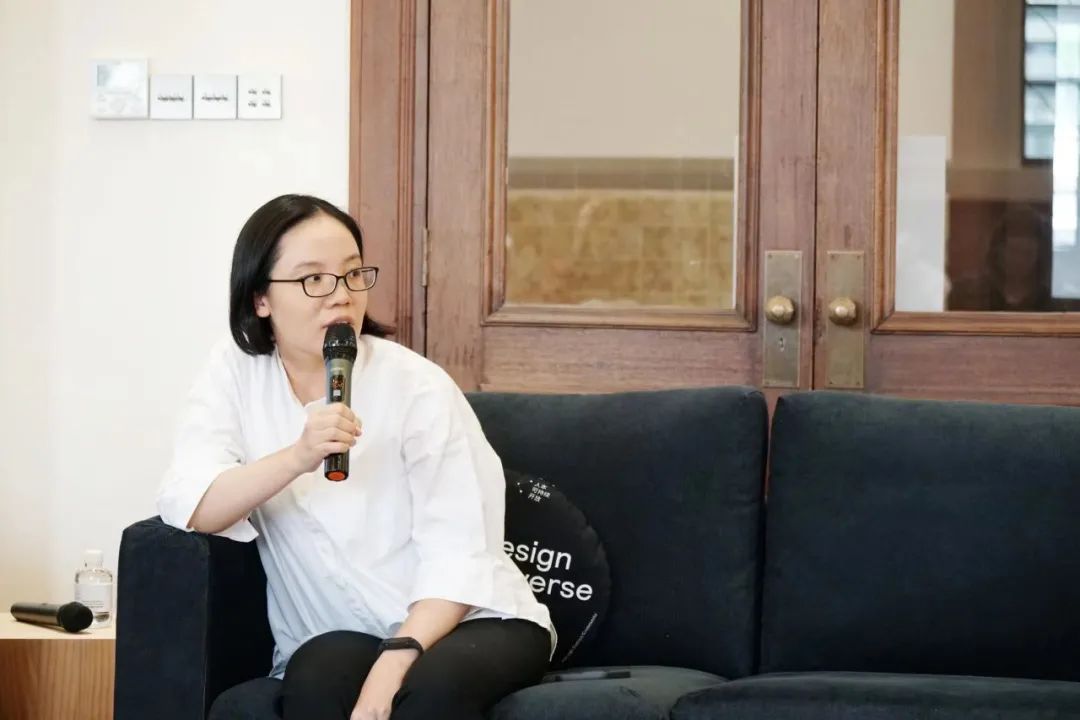 A:真正的出发点都是来自于终端用户
The true starting point is always the end user.
小米这个平台有些特殊,我有相当的权限深度参与到设计输入中。我们依赖的方法更多是沉浸式思考,就是当我自己/设计师群体/开发者作为用户的时候如何去使用这个产品,真正的出发点都是来自于终端用户。我从事的产品就是广泛的生活日用品。我们采取的方式反而不是像大家想的去雇一个调研公司给我们做用户调查。"以前的产品有哪些需求会被满足?","我使用同类产品的困境/hazard是什么?","我未被满足的需求又是什么?"我会沉浸式地"脑补"或prototype去模拟最终使用的过程。所以对于小米这十一年的工作总结是,我不会仅仅出于完成KPI的目的满足公司对我的需求。
Xiaomi's platform is unique in a way that I have significant authority to deeply participate in design input. We rely more on immersive thinking, considering how I, as well as the design team and developers, would use the product as users. Our true starting point is always the end-user. The products I work on encompass a wide range of everyday essentials that I and people around me use. Instead of hiring a research company for user surveys, we take a different approach. We ask questions like, "What needs from previous products have been met?" "What challenges or hazards do I encounter when using similar products?" "What unmet needs do I have?" I immerse myself in mentally simulating or prototyping the final usage process. Therefore, in summarizing my 11 years of work at Xiaomi, I prioritize meeting the needs of end-users rather than solely focusing on fulfilling company requirements for KPIs.
/张莹 Michelle Zhang/
海尔(上海)设计中心总经理
GM of Haier (Shanghai) R&D Center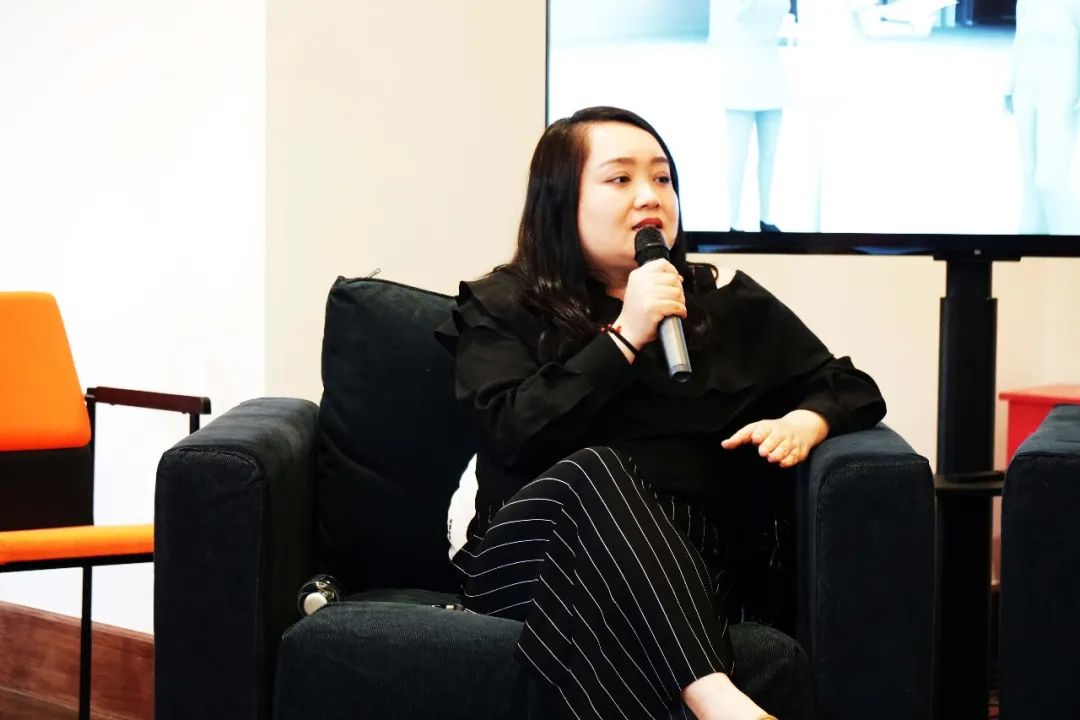 A:去理解不同地区/人群的消费习惯和方式
Try to understand the consumption habits and patterns from different regions and user groups.
我想从海尔的设计师可能会遇到的其他方面的挑战来说说我们的理解。
第一个挑战是设计复杂度的问题。国内外的工业设计行业普遍面临系统性思维的缺失情况。设计师通常只关注单一的产品设计,却忽视了产品的应用场景,比如家庭的摆放位置,以及在人们日常生活中扮演的角色等。这需要设计师基于用户生活360度地考量每个影响因素。
第二是国际化的挑战。中国品牌出海全球会遇到很多困难,每个地域均有不同的消费习惯和用户需求,特别是不同国家民族的语言。面对这些调整,我们要做出创新的好设计,同时将其转化为可批量制造的产品,最终实现商业化的成功。
I would like to discuss our understanding of the challenges that Haier's designers may encounter from other perspectives.
The first challenge is the issue of design complexity. The industrial design industry, both domestically and abroad, generally faces the lack of systematic thinking. Designers usually focus solely on individual product design, overlooking the application scenarios of the product, such as the placement in the home, and the role it plays in people's daily lives. This requires designers to take into account every influencing factor based on a 360-degree view of users' lives.
The second challenge is internationalization. Chinese brands going global will encounter many difficulties, as every region has different consumer habits and user needs, particularly the different languages of different countries and ethnic groups. In the face of these adjustments, we need to create innovative and good designs, while also transforming them into products that can be mass-produced, ultimately achieving commercial success.
Do you believe that AI could be helpful to you?
/张莹 Michelle Zhang/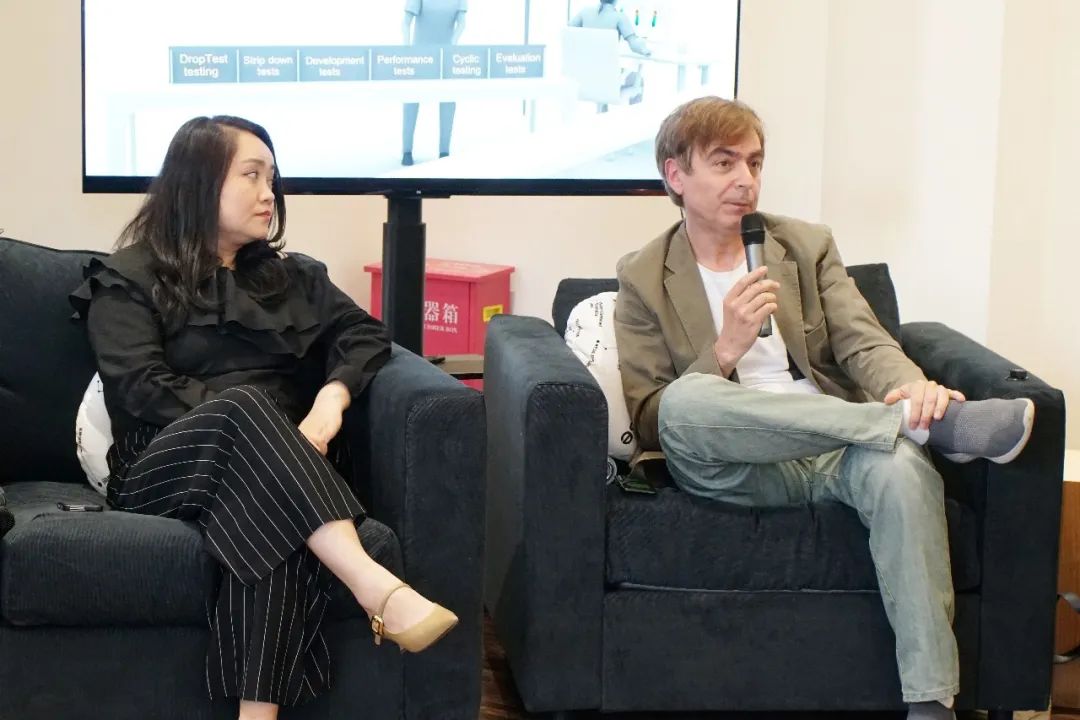 A:设计架构、知识体系和经验融入到工具和系统中。
Design architecture, knowledge system and experience intergrated with tool system.
传统的工业设计方法存在很多痛点:
【1】设计需求不精准,用户需求在传递和定义过程中会有偏差,信息量不够以及融合过多企划或设计师的主观判断,导致最终的产品定义和设计方案与真实用户需求不一致。
【2】设计协同效率低,花在流程衔接和业务推动的时间上,大于核心的设计创意时间,另外设计变更多,反复改稿。
【3】设计质量不稳定,企业仍有很多知识资产在资深设计师身上,没有有效沉淀在工具和知识库上。
我们希望打造一套数智化创新设计系统平台,最终目标是要做一个"虚拟设计师",这个设计师懂用户需求,懂产品设计,懂制造工艺,懂人机功效,可以直接产出和交付设计方案。
Traditional industrial design methods have many pain points:
[1] Design requirements are not precise. User needs may deviate in the transmission and definition process, the information is not sufficient, and there's too much integration of planners or designers' subjective judgments, leading to inconsistency between the final product definition, design solutions, and the real user needs.
[2] Design collaboration efficiency is low. The time spent on process integration and business promotion is greater than the core design creation time. Moreover, design changes are frequent, leading to repeated revisions.
[3] Design quality is not stable. Many of the company's knowledge assets are still in the hands of senior designers, and have not effectively settled into tools and knowledge bases.
We hope to build a set of digital and intelligent innovation design system platforms. The ultimate goal is to create a "virtual designer". This designer understands user needs, product design, manufacturing technology, human-machine effectiveness, and can directly produce and deliver design solutions.
/Srini Srinivasan/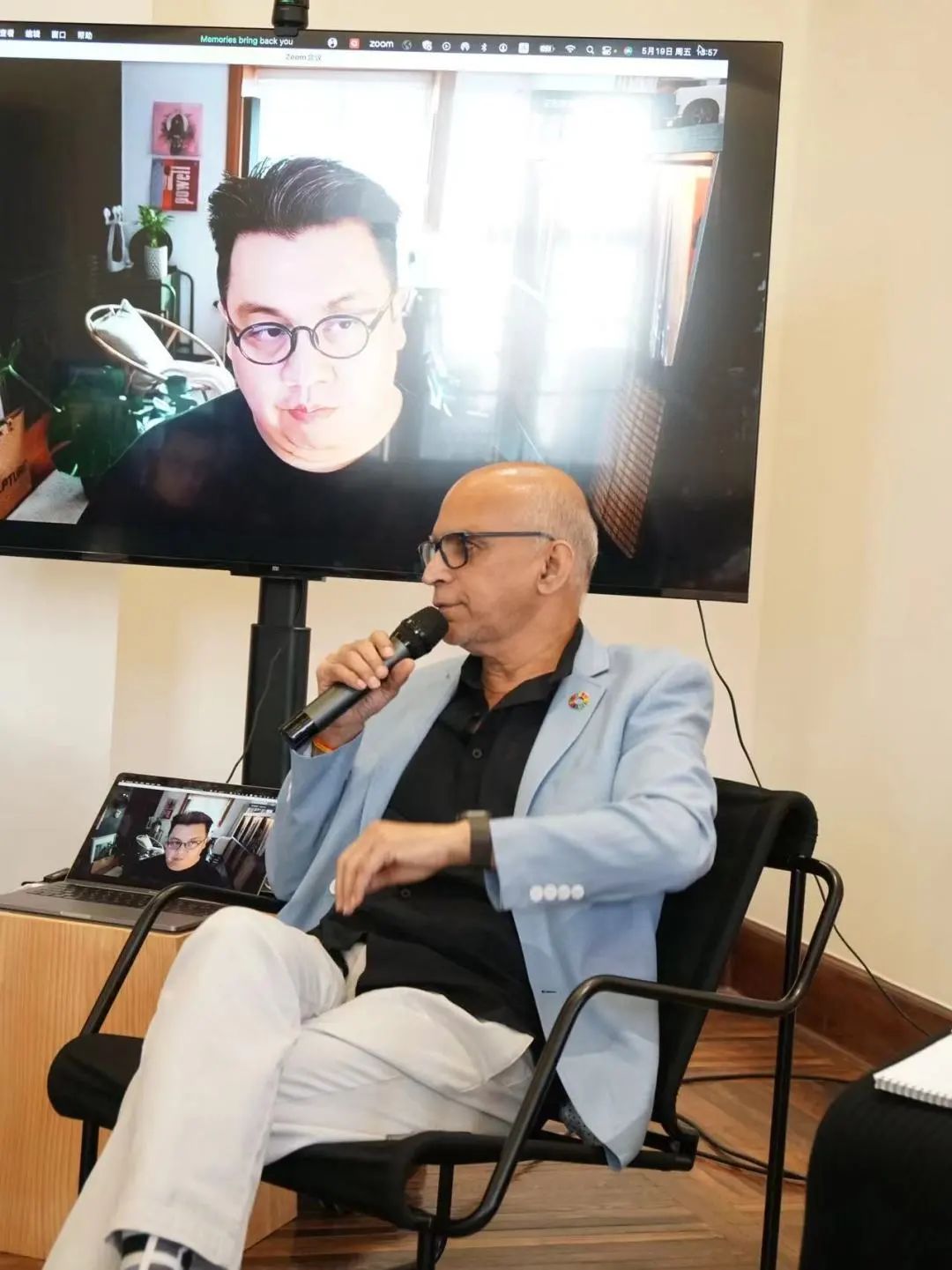 Q:你从国际市场转向中国市场,而中国文化中有许多内涵。这里的用户行为方式与你之前所处的环境完全相反。你能和我们分享一下你从不同文化到中国文化的适应能力吗?
You transitioned from an International to Chinese market, and you would have experienced a lot of differences in some of the culture and user behavior. Could you share with us how you managed to move from a different cultural background to adopting to Chinese culture?
/Momo Estrella/
宜家中国数字设计总监
Head of Digital Design, IKEA China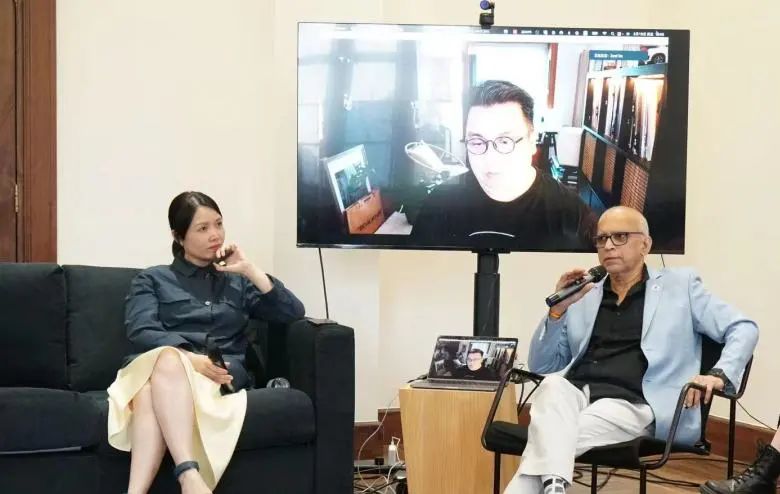 A:辨别商品的属性差异
Differentiating product attributes is highly important.
保持对不断变化的消费行为和周围文化变化的好奇心。辨别商品的属性差异在市场推广中非常重要(如灯泡是技术性产品,枕头是视觉性产品)。在美国,购买床时,顾客更多地从视觉特点来评估床是否符合他们的生活方式和审美观。然而,在大多数亚洲市场,购买床是更多技术性的决策。人们会关注材料、耐久性和尺寸。这是因为在亚洲的许多地方,父母与孩子共用一张床的时间比西方要长得多。这完全改变了在市场上推广产品的方式。如果一家公司对客户的真正问题、需求和痛点不感兴趣,那么它将无法成功地重新设计出在市场上成功的产品。
Maintaining curiosity about evolving consumer behaviors and cultural changes is crucial. Differentiating product attributes is highly important in market promotion (e.g., light bulbs being a technical product while pillows being a visual product). In the United States, customers often evaluate beds based on visual characteristics that align with their lifestyle and aesthetics. However, in most Asian markets, purchasing a bed is a more technically driven decision. People focus on factors like materials, durability, and dimensions. This is because in many Asian regions, parents share beds with their children for longer periods compared to the West. It completely shifts the way products are marketed in the market. If a company is not genuinely interested in understanding customers' true problems, needs, and pain points, it will struggle to successfully redesign products that thrive in the market.
Q:从创业经验来看,管理产品有哪些挑战?如何管理您的消费者期望和最重要的计划?
From the experience of being an entrepreneur, what are the challenges of managing the products and how do you manage your consumer expectation and your most importance plans?
/刘力丹 Lidan Liu/
小猴科技创始人、同济大学设计创意学院副教授
Founder of HOTO Technologies
Assoc. Prof at Tongji D&I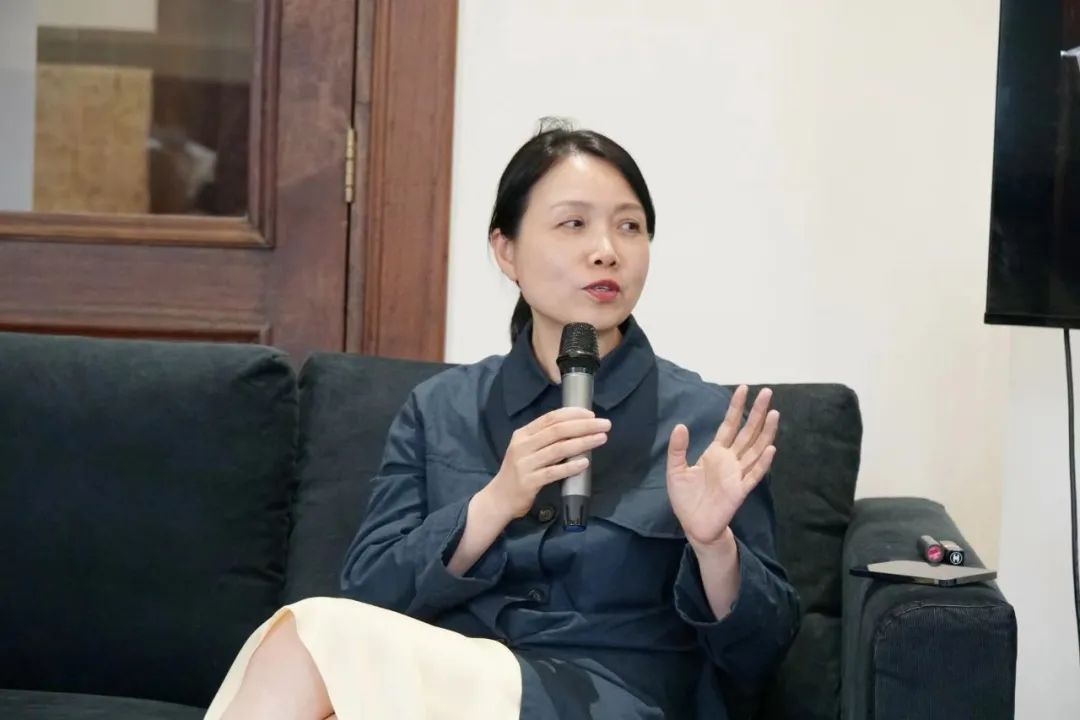 A:如何快速试错
How to fail fast.
创业是把资金/人力聚集在一起去验证你的想法,开始是一个快速试错的过程。
【1】比较大的挑战是创新管理。我一直是在观察怎样的机制/tools/企业文化能够让这样的创新的能力repeat,一步步沉淀。
【2】我现在仍旧认为产品经理是个设计师很适合,但是个人最后那个决策点仍旧是一个非常感性的决策。产品经理的能力我觉得很多是直觉,是要天分的。这个是我还没想明白的要怎样去copy产品经理这样的一个能力。
【3】在管理上的挑战是如何快速试错。硬件其实整个流程特别长,等我们要试错需要投入很大的资源花七八个月/一年的时间。AI或许可以帮助我们缩短研发等流程。
Entrepreneurship is about pooling together funds and manpower to validate your ideas, and it initially involves a rapid process of trial and error.
[1] One significant challenge is innovation management. I have been observing the mechanisms, tools, and corporate culture that can enable the repetition and gradual accumulation of such innovation capabilities.
[2] Furthermore, I still believe that product managers are well-suited as designers, but the final decision-making point remains a highly intuitive one. I consider the abilities of product managers to rely heavily on intuition, which requires a certain talent. I haven't figured out yet how to replicate this ability of a product manager.
[3] The management challenge lies in how to quickly iterate and experiment. The hardware process, in particular, is quite lengthy, and when we need to iterate, it requires significant resources and can take seven to eight months or even a year. AI may potentially help us shorten the development and research processes.
Q:当今存在很多不确定性(人工智能)。我们如何与未来的生活联系起来?我们如何使用人工智能?我们的生活会发生变化吗?我们是否会保持作为人类的本来面貌?
There's a lot of uncertainties today (AI). How can we connect our lives going forward? How do we use AI? Are we going to change our lives ? Are we gonna remain as human beings as we are?
/Kostas Terzidis/
同济大学教授、全球知名算法设计专家
Prof at Tongji D&I, Globally-known AI Expert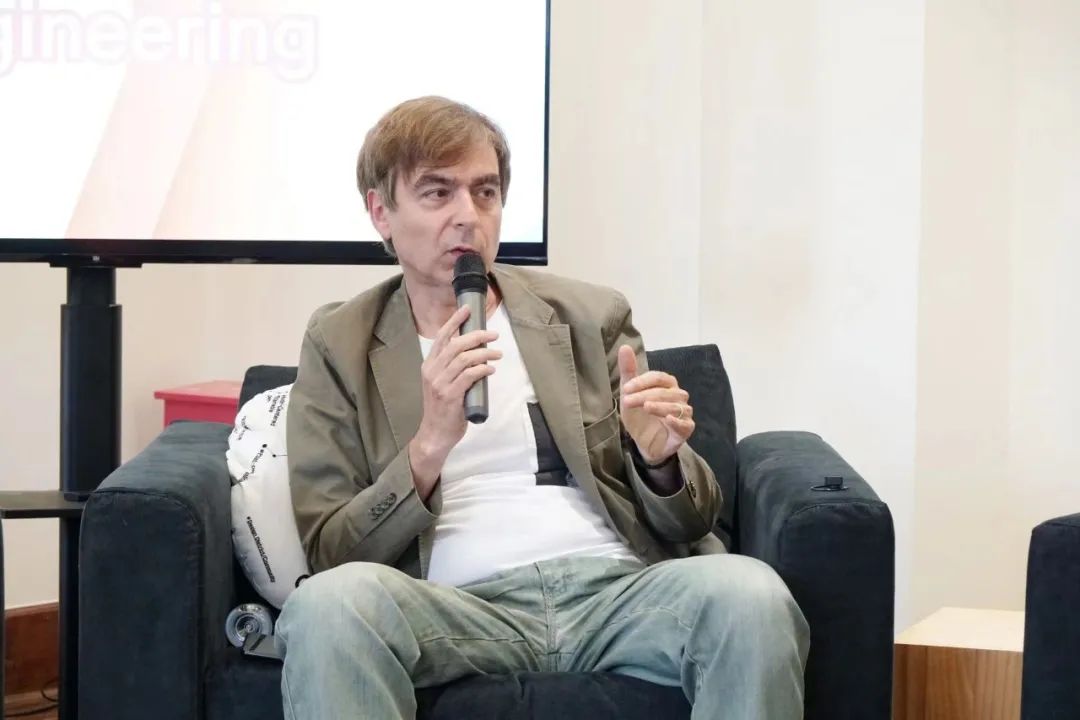 A:设计更像是使用工具
Design is more about using tools.
设计是一个有趣的旅程。我逐渐意识到一个重要的观点:设计不仅仅是做决策,更像是使用工具。工具是思维突破的体现,通过实际的物理设备来改变思维方式。这是一种突破,它决定了设计的方法,并影响人们创造、展示和构思事物的方式。与此不同,AI更像是一种心智状态、一种思考方式。它对设计产生了巨大的影响。我们对AI感到恐惧,这种恐惧是合理的,因为AI与众不同。它将深刻影响设计领域,揭示设计的真正本质和价值。
This is an interesting journey. All of the sudden, things start to become clear Later. I realized some point that design is not making the decisions, and it's more about using tools. A tool, let's say, a manifestation of mental's breakthrough, and have created into a physical device that can actually multiply or indicate a way of thinking. That actually is a breakthrough. That happened to determine how you make your design and actually affect people produce, present, conceive things. The AI is actually a little bit different, it's more like a mental state, a way of thinking. That's gonna be a very high effect in the business or design. There's a fear and I think it is rightful to have that fear, because it is very different. It's going to affect the design world tremendously. I think it's gonna reveal the true essence of the design, and the true value part.
随着夜幕低垂,我们带着思绪回归,但心中却燃起了对未来的许多期待。愿这次设计沙龙给大家带来了很多的思考与价值。期待与您在下次沙龙的相聚!
As the night falls, we closed the event with lingering thoughts and anticipation for future explorations. May this design salon bring everyone both intellectual and social value. Looking forward to seeing you next time!