预告 | DIIS x 新车间联合实践工坊开放日: 可持续设计与乡村创新
创新转化,是从种子概念到原型制作、技术深化、试验落地、最终由初创团队实现商业化产业化的全链路过程。
作为研究院重要的基础设施,DIIS x 新车间联合实践在启动后将频繁举办开放日、工作坊、路演等社群活动,汇聚设计社群和种子创意,同时提供软硬件设施和专业人员,扶持创新创意的落地转化。
期待你的加入!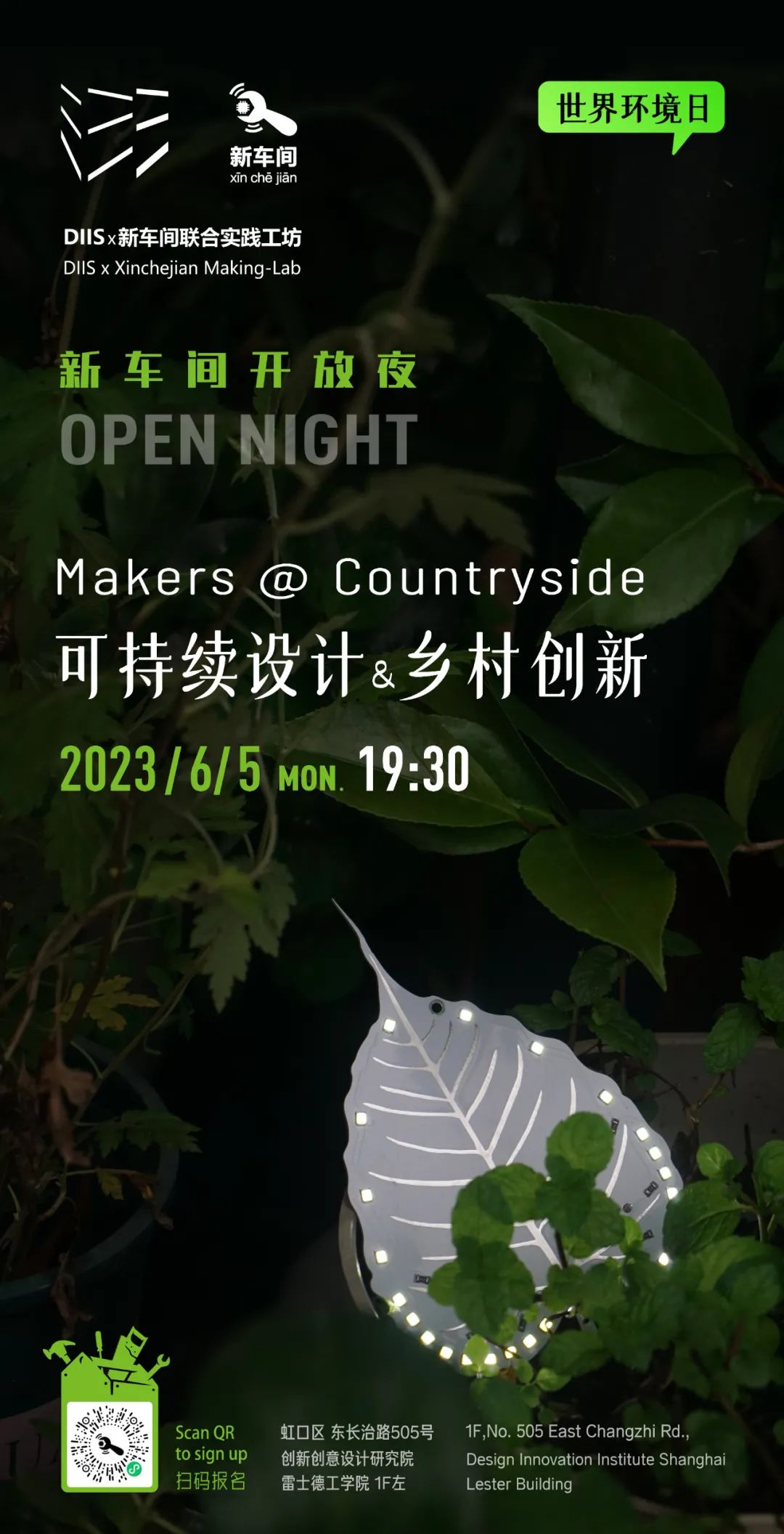 Open Night Topic
DIIS x 新车间联合实践工坊
DIIS x Xinchejian Making-lab
6月5日(周一) 正值世界环境日,本期开放夜也带来了可持续和充满绿野山林气息的内容:创客在乡间。
本期我们将分享几位旅居乡村的创作者如何利用设计赋能乡村,如何徒手打造各自的Dream House。并在机缘巧合下筹组"永续攀岩小组",并尝试用社会创新/工程及艺术的力量来解决攀岩运动的环境冲击及当地攀岩社区的永续经营问题。
如果你:
· 幻想过隐居山林,想要了解真正的乡村生活或正在计划移居乡村
· 对环境议题有关注,去户外必定顺手清理垃圾但总是在想"还有什么可以可以做的"
· 好奇艺术和传播的力量在真实的社会议题上可以怎样发挥作用的
This Monday (

June 5th)
, o
n the occasion of World Environment Day, this month's Open Night brings sustainable and nature-inspired content. Designers and makers in Shanghai and Yangshuo will share how they have used design to empower the countryside, or built their own Dream Houses from scratch. How they have also formed the "Sustainable Climbing Society" by chance, and the way they aiming to use social innovation, engineering, and art to address the environmental impact of rock climbing and the sustainable operation of the local climbing community.
-Have fantasized about living far from
the city
and want to learn about real rural life or are planning to move to the countryside.
-Are concerned about environmental issues, always picking up trash during outdoor activities, but wondering what else can be done.
-Are curious about how the power of art and media can contribute to real societal issues.
Welcome to join our Open Night event and participate in the discussion.
[
Article translated by ChatGPT, reviewed by human ]
19:50
介绍 Intro of

DIIS x Xinchejian Making-lab
by Aldo Cibic
DIIS首席顾问,孟菲斯联合创始人,同济大学荣誉教授
From a pigsty to an art studio
Sustainable Climbing Society
— From observation to action
‍🔧
DIIS x 新车间 Making-lab联合实践工坊
Left side of 1F, Design Innovation Institute Shanghai, No. 505 East Changzhi Rd., Hongkou District.
虹口 东长治路505号 (雷士德工学院旧址) 1F左